Matobo Hills Pili Mac Bess

&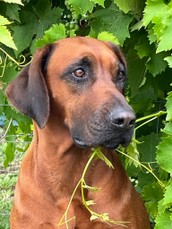 Glenaholm Payton Gazini Ye Matobo Hills

&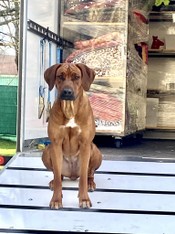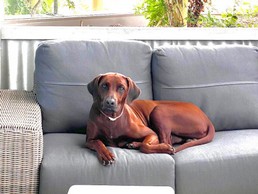 The planning
I plan our litters in good time and with great consideration. Many factors are at play here. We don't look for dogs based on how close they live to us or which connection is the easiest and involves the least effort. We've travelled and flown dogs thousands of kilometres based on health, character, strong pigmentation and the right gut instinct in order to find Mr Right.
Should anything get in the way despite this good planning, we always have a "plan A²" in the bag.
We don't use emergency solutions or plan Bs. Each choice that we make is a deliberate and special choice.
The philosophy
A Matobo Hills puppy only moves in if we can guarantee complete family integration, no exclusion from areas of life and also give them rights and not just impose obligations. The puppy's bed is always close to you, during the day and at night time. They are given undivided attention and the time needed to grow into a cherished family member. This includes rest periods as well as age-appropriate activities and games. Holidays are spent with you or in the company of the puppy's other family members and they are looked after without being placed in a pet hotel or kennel. Castration/sterilisation is not planned nor is a kennel attitude, exclusion, self-entertainment or even force or brutality of any kind.
The puppy may be left alone once they have been accustomed, are around 1 year old and even then not for more than 3-4 hours. The puppy is a team player and is therefore a great companion in offices, restaurants or beer gardens. The rest, patience and consistency provided will stay with the puppy for their entire life.
I personally find raising a Ridgeback in a "species-appropriate" manner an insult to this amazing breed. They are and should remain family members and each of them should have more than one option of appropriate rearing. The art is to remember that you are dealing with a dog and to let it behave like one.
For me, cows, pigs and chickens are raised in a "species-appropriate" manner. I wish the same for many of these equally wonderful and intelligent animals.
If this does not interest you, nor do you think you have the time or disagree with any of the points mentioned above, you should reconsider taking on a puppy as each dog should be given the opportunity to become a COMPLETE family member with all that this entails.
It's impossible to see inside the heads of new puppy owners. We have had experiences in this regard that we wish we could have avoided for the sake of our puppies, as well as our own. That's why there is no [longer] any scope for negotiations or discussions.
If you are of the same opinion and can wholeheartedly agree with all of these points, then I look forward to hearing from you. The quickest way to reach us is via our contact form.